Eight-day tour of Croatia's most beautiful cities and cultural centers (Zagreb, Opatija, Porec, Rovinj, Zadar, Sibenik, Split), including visits to Krka and Plitvice national parks.

Day 1 / Zagreb

Arrival in Zagreb and transfer to the hotel. Dinner and overnight stay.


Day 2 / Zagreb - Rijeka - Opatija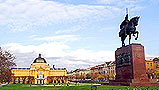 After breakfast, walk through the city. Visits to the most beautiful sites of Donji grad (Lower City), including the Botanical Garden, the old University Library, Mimara Museum, Croatian National Theater, University of Zagreb and Zrinjevac Park. The walk continues to Gornji grad (Upper City), on Sv. Marko Square where Sabor (the Croatian Parliament), Banski dvori (Croatian Government), and Sv. Marko Church are located, followed by Lotrscak Tower, Jezuitski Square and Kamenita vrata (Stone Gate), then through Radiceva Street to Ban J. Jelacic Square and Mandusevac Fountain, and finally a visit to Zagreb Cathedral. Lunch in a restaurant.

Tour of the city of Rijeka - church and castle in Trsat, the old town and the well-known Korzo.
Dinner and overnight stay in Opatija.


Day 3 / Motovun - Roc - Porec - Rovinj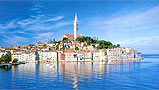 After breakfast, trip to Motovun and Roc in central Istria. Afterwards, visit to the city of Porec, known for Eufrasias Basilica from the 6th century, one of the best preserved examples of early Byzantine art, nowadays under UNESCO protection.

Lunch in a restaurant. Sightseeing of Rovinj - walks through picturesque streets up to the highest point and the symbol of Rovinj, Sv. Eufemija Cathedral. Dinner and overnight stay in Opatija.


Day 4 / Zadar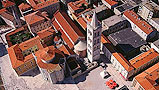 Breakfast and drive towards Zadar. Lunch in a restaurant.
Sightseeing of the city of Zadar, including the Roman Square from the 2nd century BC, Sv. Donat Pre-Romanesque church from the 9th century, archeological museum and the Benedictine Monastery.

Visit to Nin, one of Croatia's oldest towns, where you can visit Sv. Kriz church from the 9th century, a rare Pre-Romanesque church built in a typically Croatian style.
Dinner and overnight stay in Sibenik.


Day 5 / Sibenik - Krka National Park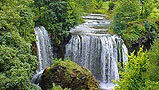 After breakfast, a short tour of Sibenik, including the old town, Sv. Ivan Cathedral and several city museums.

Afterwards, a tour of Krka National Park, known for Skradinski Buk Waterfall, consisting of several interconnected lakes surrounded by rich vegetation.

A visit to the Ethnographic Museum and boat ride to Skradin. Lunch in a restaurant. Return to hotel. Dinner and overnight stay in Sibenik.


Day 6 / Trogir - Split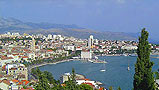 After breakfast, tour of the city of Trogir, a picturesque medieval town and a well-known arts center. Lunch in a restaurant.

The program continues with a tour of the city of Split - Diocletian's Palace from the 3rd century and Sv. Duje Cathedral. Dinner and overnight stay in Split.




Day 7 / Split - Plitvice National Park - Zagreb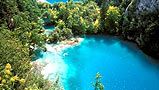 Breakfast and departure for Plitvice National Park. Lunch in a restaurant.

A tour of Plitvice National Park placed on the UNESCO World Heritage List. Walking along the wooden promenade, enjoy the view offered by 16 magnificent lakes that flow into each other, forming 92 breathtaking waterfalls.
Dinner and overnight stay in Zagreb.



Day 8 / Zagreb

Breakfast and transfer to the airport. Departure.